Happy New Year from Results for All! As we begin to launch our activities for this year, here are the most popular items from our 2018 reading lists:
Peer learning networks are powerful platforms for bringing countries together to exchange information, learn, and collaborate. Results for All conducted research to assess whether there is demand in government for a peer learning network that could help policymakers share experiences and amplify solutions to advance the use of evidence in policy. To inform a network strategy and avoid potential overlap with existing initiatives, we engaged in a comprehensive process of identifying, researching, and mapping active networks that have similar missions.
The subsequent report classifies 50+ networks for peer learning and evidence use in government; describes 8 modes of engaging network members; and synthesizes research and key informant interviews into 13 lessons on network organization and engagement. We then match select networks against 5 key criteria, and conclude that new efforts premised on these criteria could support evidence-informed policymaking and add value to current initiatives.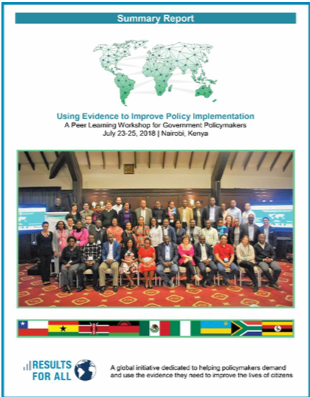 What happens when teams of government policymakers from nine countries meet in Nairobi, Kenya to discuss using evidence to improve policy implementation? The peer-learning exchange we hosted from July 23-25 featured sessions on the use of administrative data to inform policy implementation, how to incentivize evidence use and build an evaluative culture, and how to engage citizens in data collection, among others.
Curious about what happened in Nairobi, and what we learned? You can watch videos, download the summary report, and explore the insights
here
.
"Impact evaluations are an important tool for learning about effective solutions to social problems, but they are a good investment only in the right circumstances. In the meantime, organizations must build an internal culture in which the right data are regularly collected, analyzed, and applied to manage implementation and improve programs."
A comprehensive summary of the authors' recent book, in which they explain why impact evaluations are not always useful, describe ten scenarios in which alternatives to impact evaluations make sense, and provide four guiding principles for collecting data that will be used to inform decisions and improve programs.
"In contrast to theories of change that posit that more rigorous evidence will have a greater influence on officials, we have found the opposite to be true."
Excerpts from a paper reflecting on ten years of trying to improve public health in Guatemala. A key takeaway from the paper is the more community members were involved in generating and presenting evidence, the greater the likelihood that it would be used to address service delivery challenges.
"If policymakers or those who support policy processes are interested in supporting evidence use and innovation during policymaking, they would be wise to consider amplifying the heterogeneity in a network by adding new actors from diverse backgrounds and finding ways for them to interact with other network actors."
The authors explore the association between evidence use and policy network structure in Burkina Faso and suggest that heterogenous networks comprising different actors and organizations are likely to increase the use of evidence and policy innovation.
"…we will need to scratch beneath the surface to investigate the underlying assumptions that influence whether individuals and organizations actually use evidence in their work. These assumptions determine whether values become empty statements and artifacts gather dust or, ultimately, whether evidence use becomes a cultural norm."
Policymakers often speak of creating a culture of evidence use and learning. In this blog, the Executive Director of Results for All describes different levels of culture, how they apply to evidence-informed policymaking, and six steps governments can take to shift their cultures toward evidence use.
---

Introducing…
Evidence Champion of the Month: Ebenezer Appah-Sampong
Deputy Executive Director for Technical Services, 
Environmental Protection Agency of Ghana
Established in 1994, the 
Environmental Protection Agency
 (EPA) is the leading public body for protecting and improving the environment in Ghana as well as seeking common solutions to global environmental problems. To diagnose and address environmental protection issues, the EPA needs to produce, source, analyze, and use a variety of evidence, including qualitative and quantitative research, monitoring and evaluation of programs, tacit knowledge from practitioners, and feedback from citizens. For example, evidence from drone mapping of small-scale mining sites was used in the development and implementation of a digital Compliance Monitoring System to address non-compliance of mining permit conditions, which was a major contributor to environmental degradation.
To better understand the factors affecting the use of evidence at the EPA, Mr. Sampong and his team worked with INASP and Politics & Ideas to pilot a 
diagnostic assessment
 and develop an Evidence-Informed Policymaking Change Plan. Mr. Sampong also led a team from EPA to participate in a 
peer learning workshop
 for government policymakers hosted by Results for All in July 2018, in which he discussed how better data collection and community engagement would be key to the success of a waste separation and recycling program in Ghana's capital, Accra.

"To be evidence champion of the month means everything to me. It motivates me to do more and also encourage my peers in other agencies to see the value in evidence for their work. Evidence is the game changer in our efforts to become a global center of excellence in environmental protection."